Function configuration and technical parameters
First, Paperboard feeding unit (one group)
China Famous Brand Feeder
Long-term cooperation factory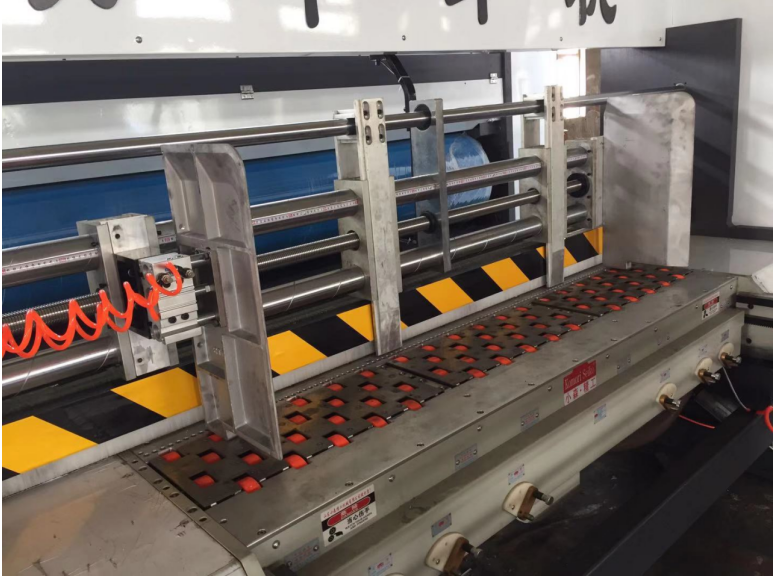 1、Machine clutch
1) Machine clutch is control by electric with bell, moving continuously ringing warning, ensure operator safety.
2) The transmission shaft is with separated lock shaft device (when the machine is not locked, the host can't start running)
3) Pneumatic interlocking device.
4) Main engine starting protection device.
2、Lead edge feeder system
1) Lead edge feeding paper mechanism can greatly reduce clogging phenomenon in the process of feeding cardboard paper.
2) Suction fan auxiliary paper feeding, to ensure bend paperboard feeding
smoothly, the air volume can be adjusted for various sections according to the
size of paperboard, ensure the maximize of the cardboard vacuum adsorption
capacity, to make more accurate feeding paper.
3) The front baffle plate and the rear baffle adjust the gap by manual, left/right side baffle of feeding paper adjust the gap by electronic.
4) The paper feeding wheel is made of polyurethane material, high friction, long durability
5) Suitable for three, five (seven) layer corrugated board, including E type corrugated board
6) The counter of feeding paper set and display production quantity.
3、Dust collector
1) High quality brush, can remove impurities on the surface of the printed board, to improve the printing quality.
4、Feeding paper roller
1) The external diameter is 156mm
2) The upper roller adopt seamless steel pipe, wrapped with wearable rubber, and balance correction.
3) The surface of under roller is embossing and chrome.
4) The gap of feeding roller is Dail manual adjustment, adjustment range 0-11mm.
5、Automatic zeroing device
1) Feeding unit, printing unit, slotting unit automatic zeroing by electronic
2) Automatic zeroing device can pre-set the printing position; reduce the adjustment time and cardboard waste.
3) With Delta PLC and MGCS Screen
Two, The printing department (2-7 groups, wallboard thickness 50 mm)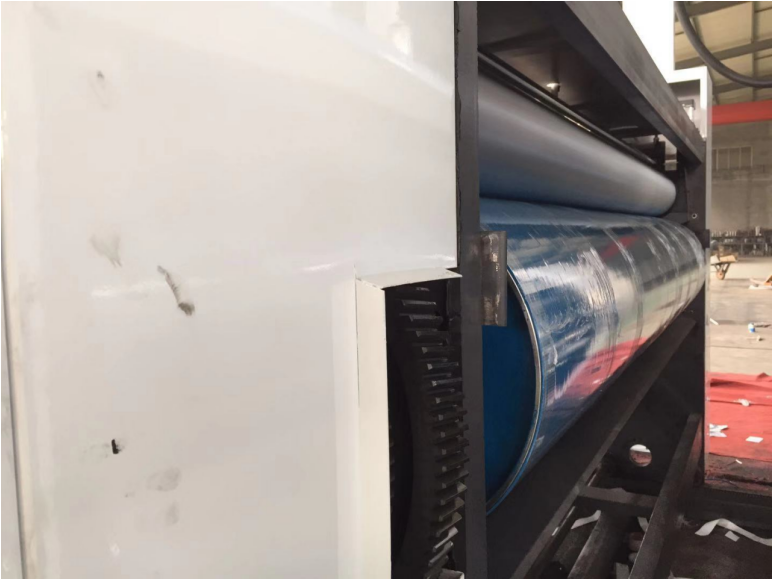 1. Printing roller
1) Including version diameter is 420mm, Without Version 405.6mm(optional).
2) Steel plate material, surface grinding, hard chromium plating, balance correction, smooth operation.
3) Ratchet fixed volume version axis, full plate hanging plate slot, suitable for 3 * 9mm hanging plate.
5) Loading and unloading printing board, foot switch electric control positive and negative.
6) The printing roller axial clearance manual adjustment, adjustment range + 5mm.
7) the printing roller to 360 degrees of digital phase adjustment of the computer electric motor, can be preset digital automatic adjustment (operation, stop can be adjusted).
8) plate rod and the transmission gear with free bond collar, convenient disassembly, maintain long-term printing color accuracy.
2. Pressure roller
1) The outside diameter is 175mm.
2) Steel pipe surface grinding, hard chromium plating. Balance correction, smooth operation.
3) The printing roller clearance dial manual adjustment, adjustment range 0-11mm.
3. Haili Brand anilox roller (roller mesh can be based on user requirements using 180-300 line / inch)
1) the outside diameter is 213mm.
2) the surface of the steel pipe using advanced hard chromium plating process, hard, smooth wear.
3) Dot consistent, ink uniform.
5) Anilox roller clearance dial manual adjustment.
4. Jizhou Rubber roller
1) The outside diameter is phi 198mm.
2) The surface of steel pipe coated with wear-resistant rubber.
3) The rubber roller high special grinding, inking effect is good.
5. Upper/lower dancing paper roller
1) Upper roller: 86mm diameter seamless steel tube, with four wheel (diameter 136mm).
2) Lower roller: 136mm diameter seamless steel pipe, surface grinding, hard chromium plating.
3) The interval of the rollers dial manual adjustment, adjustment range 0-11mm.
6. Ink cycle
1) Pneumatic diaphragm pump for ink stability, simple operation and maintenance.
2) ink filter screen, filter impurities.
7. Printing fixture
1) When the unit is separated, the pneumatic brake mechanism to limit the transmission shaft rotation, to maintain the original gear position fixed point, can achieve a smooth fit to maintain the original printing position.
Three, Rotary slotter die cutting unit (one group, the thickness of wallboard 50 mm)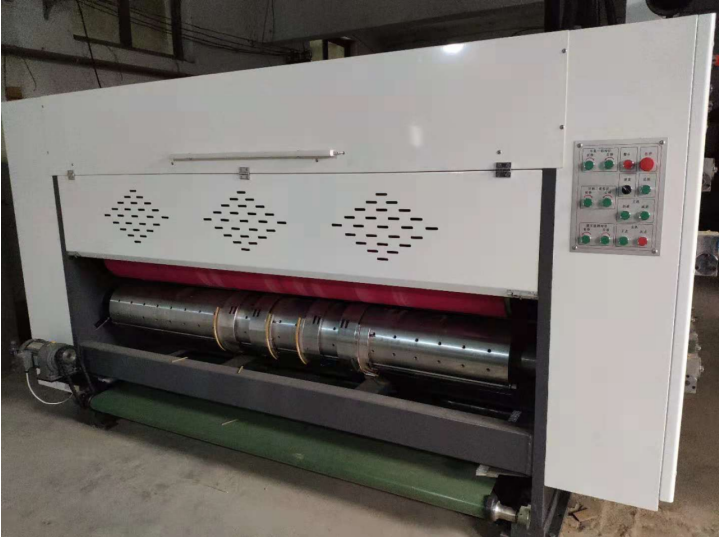 1. Upper/ lower paper guide roller
1) Upper roller: External diameter is 86mm, seamless steel tube, with 4 paper feeding wheels (136mm).
2) Lower roller: External diameter is 136mm, seamless steel tube, surface grinding, hard chromium plating.
2. Rotary die cutting
1) The roller is high quality steel, surface with hard chromium plating, and balance correction, increases its running stability and reliability.
2) Die cutter roller and rubber roller adopt international standard size, the diameter of knife mold roller is 432mm, the diameter of rubber roll is 434.2mm (The diameter of rubber cushion is 455 mm), you can buy suitable template and cushion in any place.
3) The gap between the die cutter roller and the rubber cushion roller is adjusted manually.
4) The die cutting roller phase with three planet structure, high precision, big bearing capacity, whatever stopping or operation can be adjusted by electric digital 360 degree.
5) When feeding paper is stopped, the rubber roller rises automatically to reduce the wear of the soft roller.
6) The rubber pad is made of Germany(Depair Brand), material is polyurethane, it can achieve 100% cut off, smooth incision, rubber pad exchange order should follow the operation manual of rubber pad loading and unloading.
7) The rubber pad roller adopts the mechanical cam type left and right movement (40mm) device, each knife is in different positions, effectively extending the service life of rubber pad.
8) The cutter roller can be adjusted by manual, the axial distance is + 5mm.
9) The diameter of upper/lower roller is different, but the linear speed is same. Die cutting knife can be controlled for non-repeating and non-terminating works in the circumferential direction, the wear of the rubber pad more uniform.
10) The linear speed compensation device, when the diameter of rubber roller changed, it can track and compensate automatically, without manual adjustment, to ensure that the size of die cutting is uniform for each batch cartons, and extend the service life of rubber cushion and knife mold.
11) For automatic repair device of rubber roller, it can repair repeatedly for worn rubber cushion, after repair the surface of rubber roller is smooth and tidy, it can keep same performance with new cushion, greatly improve the rate of to maintain the same performance with the new blanket, greatly improve repeated usage rate of cushion.
Four, stackerr unit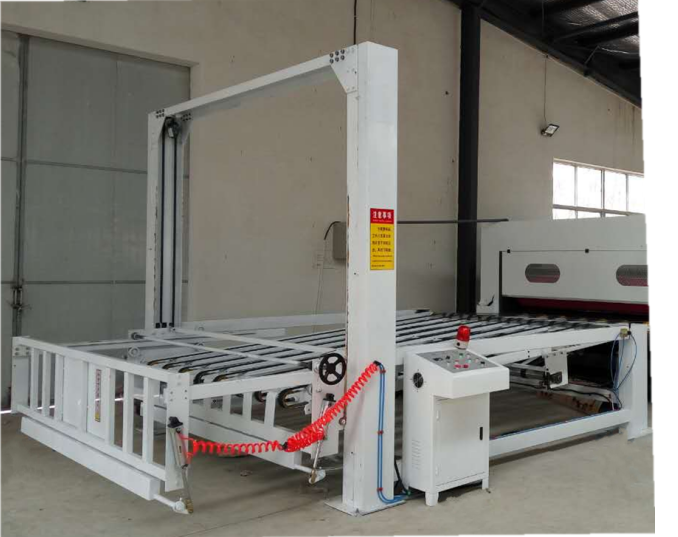 1、Paperboard collection arm
1)Operation by manual or automatic.
2) For belt of paperboard collection arm, the tightness is separated adjustment
3) The speed of stacking paper is adjusted in a certain range.
2、The bed platform lift
1) Strong chain drives
2) The stacking height is 1600mm
3) The drive motor of bed platform lifting is with brake function, it can make the bed flat-form staying in fixed position and not fall.
3、Paper collection board
1)The paperboard collection board is with pneumatic action, when the cardboard is piled up to the predetermined height, the paper tray authentically sticks out and holds the cardboard.
2) The backboard position is adjusted manually.
3)The surface with wrinkle belt, to prevent the cardboard slide.
Five.Transmission gear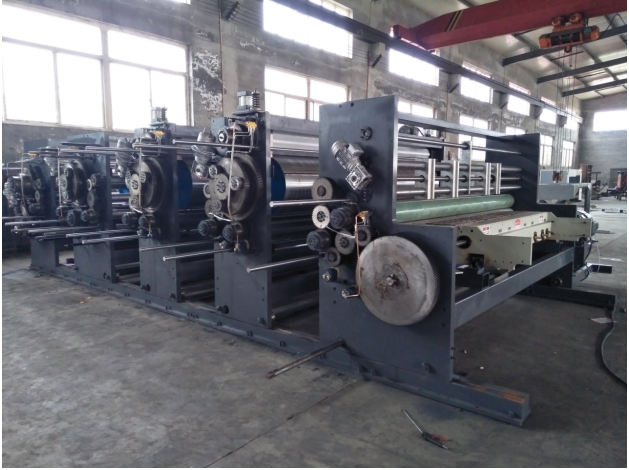 1. Main drive gear
1) 45# alloy steel material, after quenching and tempering, hobbing, high frequency quenching, hardness HRC52-55, long life, wear small, can guarantee the accuracy of printing color.
2) All the transmission shaft and gear using no key coupling, can make the gear and shaft connection without clearance, coaxial high, no loose,Printing overprint error.
3) The machine bearings are used ha, Wa, Luo bearings.
2. Lubrication part
Gear oil pump automatic spray circulation oil system, reduce gear wear, reduce maintenance costs.
Six, Electrical parts

1) The machine adopts photoelectric counting, with warning lights, warning bell.
2) Main electric parts are Schneider and Chnt Brand.
3) The main machine adopts frequency conversion motor.
4) The ink distribution motor uses Taiwan gear reducer motor.
All spare parts original from our Long-term cooperation Manufacturer, stable quality.
Sevent: Technical parameters
| | |
| --- | --- |
| Mechanical speed (sheet / min) | 150 |
| Economy speed (sheet / min) | 120 |
| Max feed size (mm)   | 2800*1450 |
| Minimum paper size (mm) | 500 x 290/600*350 |
| Max printing size (mm) | 2600*1450 |
| Standard plate thickness (mm) | 7.2 |
Note: Air pump from Buyer.
Explanation
● While customer signing contract, customer need choose anilox lines No.
● Machinery has twelve months guarantee, without contain wearing parts, if need to install and training,we will send our technical person,but all of charge will be paid by buyer, (such as: visa fee, room and board, workers salary $100 per person per day)
Nine: Samples