Name

Lead Edge Feeder Printer Slotter Die Cutter Stripper Gluer Packer Inline Machine 

MODEL

SYKM(336-2200)

COLOR

Standard

DESCRIPTION

Model: SYKM,336-2200, Full screen; 50mm Thickness wallboard for Printer; Max Paper

Size: 950*2250MM; Max Printing Size: 950*2100mm;

Min feeding board size: 260*500mm;

Min Glue size: 440*170mm, L130*W80*H90mm;

Design Speed: 200 Sheets/min;

Min slot knives Distance: 265*60*265*60mm; 15-25 Bundles/minutes; Lead edge Feeder+2 printer+slotter(electrical design)+die cutter+stripper+folder gluer+pacer, total 8 units; 

POWER

3 Phase 380V 50HZ 380V 50HZ
Package: All machine body wrapped with plastic,and steel Wire fixed into container.
FOB Tianjin
336-2200 Lead edge feeder inking corrugated paperboard 3 color printer slotter die cutter folder gluer packer(strapping machine) inline
Technical Parameters
Design speed

200(piece/min)

Economic speed

180(piece/min)

Inside wallboard width

2500mm

Max. Paperboard size

950*2250mm

Min. Paperboard size

260x500mm

 

Max. Printing size

950*2200mm

Max. Skip paper feeding size

1200*2250mm

Standard thickness of printing plate

7.2 mm (with version lining)

Weight approximately

33 tons

Overall dimensions          

6600*4300*3600mm

(printer)

10500*2600mm

(gluer)

6640*1200*1650mm

(strapping machine)

 
Lead edge feeder 3 color printer slotter die cutter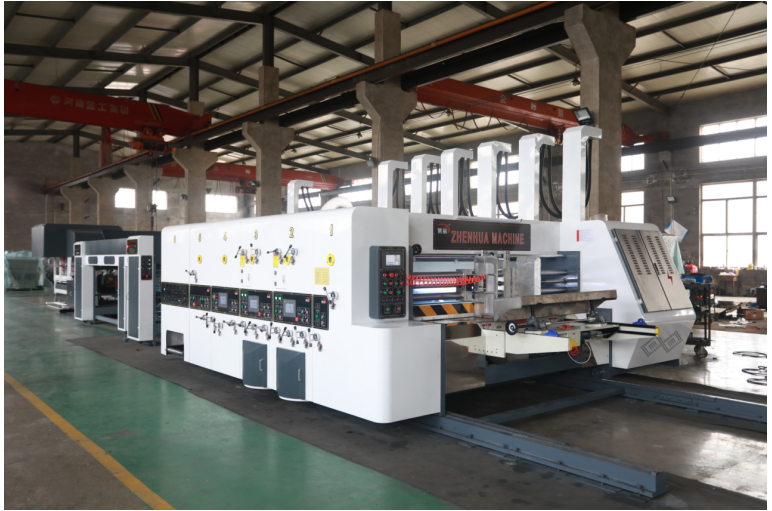 Customized lead edge feeder 3 color printer slotter die cutter, total 6 units.
Full screen for each units
One. Feeding unit (one unit, thickness of wallboard 50mm)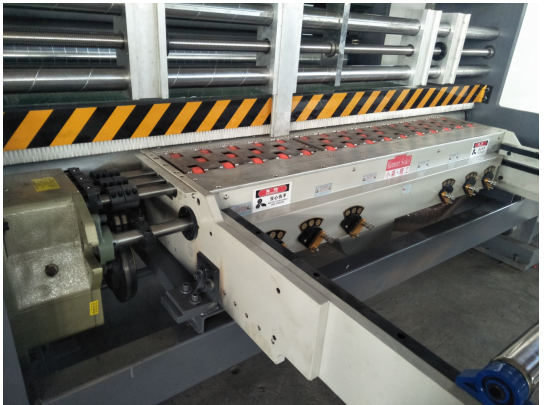 1、Machine clutch
1) Machine clutch is control by electric with bell, moving continuously ringing warning, ensure operator safety.
2) The transmission shaft is with separated lock shaft device (when the machine is not locked, the host can't start running)
3) Pneumatic interlocking device.
4) Main engine starting protection device.
2、Lead edge feeder system
Lead edge feeding paper mechanism can greatly reduce clogging phenomenon in the process of feeding cardboard paper.
With 7.5kw draught fan, frequency conversion motor driving.
Suction fan auxiliary paper feeding, to ensure bend paperboard feeding smoothly, the air volume can be adjusted for various sections according to the size of paperboard, ensure the maximize of the cardboard vacuum adsorption capacity, to make more accurate feeding paper.
The front baffle plate adjust the gap by manual, rear baffle box adjust by electronic, left/right side baffle of feeding paper adjust the gap by electronic.
With pneumatic aligning function for left side baffle.
The paper feeding wheel is made of polyurethane material, high friction, long durability.
Suitable for three, five (seven) layer corrugated board, including E type corrugated board. For different thickness board, the height of side baffle can be adjusted by hand wheel.
With touch screen, it can set and display production quantity.
With skip feeding paper function (When you need printing big paperboard, you can use "Skip feeding paper". But it is suitable for printer slotter die cutter, not for gluer and packer inline)
3、Dust collector
High quality brush can remove impurities on the surface of the printed board, to improve the printing quality.
4、Feeding paper roller 
The external diameter is 136mm
The upper roller adopt seamless steel pipe, wrapped with wearable rubber, and balance correction.
The lower roller surface is embossing and chrome, with balance correction.
Double raw feeding rollers, front feeding roller is rubber roller with elestic, to avoid destroying the strength of the paperboard.
The Interval of feeding roller is Dail manual adjustment, adjustment range 0-11mm.
5、Man-machine interface
1) Man-machine interface, full PLC and screen precision control the machine
2) Main motor is frequency conversion motor, save energy.
3) Draught fan motor is separated frequency conversion motor。
4) Control panel is concise and concentrated, easy operation.
5) Feeding unit, printing unit, slotting unit, die cutting unit are equipped with automatic zero device (It can pre-set the printing position; save the adjusted time and avoid cardboard waste when testing).
Two. Printing Unit ( thickness of wallboard 50 mm )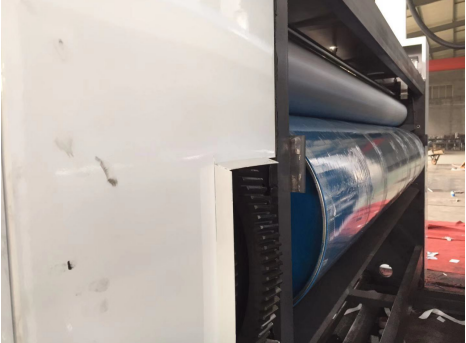 1、Printing roller 
1) The external diameter is 336mm (With printing plate)
2) High quality steel material, surface grinding, hard chromium plating, balance correction, smooth operation.
3) Ratchet fixed volume edition axis, full plate groove, suitable for 3 * 9mm hanging plate
4) Loading and unloading printing board, foot switch electric control forward and reverse.
5) The gap of printing rollers is dail manual adjustment, adjust range 0-11mm
2、Pressure roller 
1) The external diameter is 156mm.
2) Steel pipe, surface grinding, hard chromium plating, balance correction, smooth operation.
3) The gap of printing plating roller and press roller is dial manual adjustment; adjust range 0-11mm
3、Haili anilox roller (mesh of anilox roller 200/220 mesh) 
1) The outside diameter is 176mm.
2) The surface of the steel pipe using advanced hard chromium plating process, hard, smooth wear.
3) Dot consistent, ink uniform.
4) Anilox roller clearance dial manual adjustment.
4、Rubber roller 
1) Adopt Jizhou Yingxing Brand rubber roller, the external diameter is 170mm
2) The surface of steel pipe is wrapped with wearable rubber.
3) The rubber roller is medium to high grinding, ink transfer effect is good.
4)Inking motor adopt gear motor
5、Upper/ under feeding roller 
1) Upper roller: external diameter 86mm, seamless steel pipe, with 4 feeding paper wheels, external diameter is 136mm
2) Under roller: external diameter 136mm, seamless steel pipe, surface grinding, hard chromium plating
3) The gap between papers feeding roller is dial manual adjustment, adjust range 0-11mm
6、Phase adjusting mechanism 
1)The limiting device for plating roller lateral movement, double safety protection (proximity switch, limiting device), humanized design, adjustment from outside of wallboard. The horizontal movement adopts electric adjustment, adjusting range is positive and negative 5mm, fast and convenient.
2) Phase adjustment adopts planetary structure, electric adjustment, PLC control digital display, dynamic and static adjustment of 360 degrees, accuracy 0.1mm, funing-turning precision. With cleaning version memory function, easy and convenient use.
7、 Inking circulation
Pneumatic diaphragm pump, inking stability, easy operation and maintenance.
Ink fliter, filtering impurities.
8、Printing plate roller fixed device 
1) Pneumatic brake mechanism. 
2) When the machine separates or adjusts the phase, the brake mechanism limits the rotation of the machine to keep the original gear position fixed point.
Three Slotting unit (one unit  the thickness of wallboard 50mm)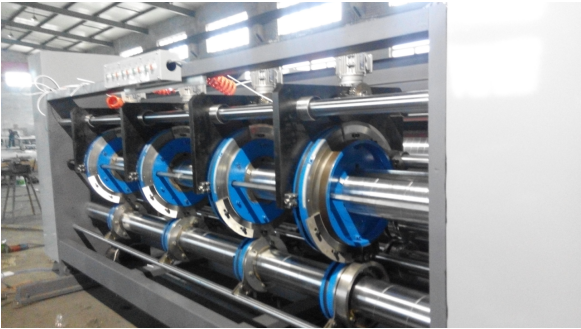 1、Creasing wheel
1)Adopt seamless steel pipe diameter 86 mm, after twice grinding, surface hard chromium plating, movement stably.
2)Creasing wheels diameter 156mm, the gap is dial manual adjustment, adjust range 0-11mm
2、Slotting mechanism
1)Adopt seamless steel pipe, after twice grinding, surface hard chromium, movement stably.
2)The width of slotting knives 7.0mm
3)Alloy steel material after heat treatment grinding gear slotting knife, excellent hardness and toughness.
4)The height of carton adopt manual adjustment
5) The phase of slotting unit adopt PLC and screen electric adjustment, it can be adjusted while running or stopping.
6)The slotting knives disc and creasing wheels horizontal moving adopt Button adjustment.
7)The interval adjustment of Creasing and knives roller adopt self-lock structure.
Four. Die Cutting Unit ( One group, thickness of wallboard 50 mm )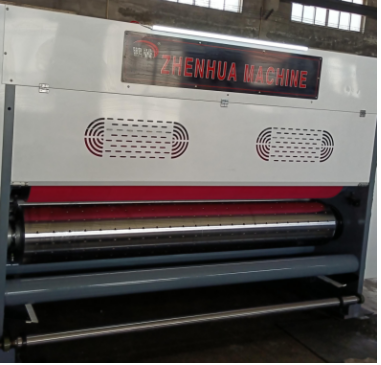 1、Upper and lower paper feeding roller 
Upper roller: external diameter is 86 mm seamless steel tube, with four feeding wheels.
Lower roller: external diameter is 136mm seamless steel pipe, surface grinding, hard chromium plating.
2、Rotary die cutter 
The roller is high quality steel, surface with hard chromium plating, and balance correction, ensure machine running stability and reliability.
The roller of die cutting template and rubber pad roller adopt international standard size, The diameter of die cutting moudle's roller is 288 mm, the diameter of rubber roller is 294.5 mm,you can buy template and rubber pad in any place.
The gap between the cutter roller and rubber pad roller is adjusted by manual.
The phase of die cutter roller with three planet structure, high precision, great bearing capacity, whatever stop and running, it can be adjusted by electric digital 360 degree.
When the paper is stopped, the rubber roller lift automatically, to reduce the wear pad.
The rubber pad adopt polyurethane sleeve made in Germany, it can achieve 100% cut off, smooth incision, rubber pad exchange position according to loading/ unloading operation manual.
The rubber pad roller movement adopts the mechanical cam type device(left or right movement distance is 40 mm), each knife is in different positions, effectively extending rubber roller's service time.
The cutter roller can be adjusted in axial direction by manual, adjustment distance is + 5mm.
The diameter of upper/ lower roller is different, but the linear speed of the two roller is same, it can control die cutting knives working without limit and cycle in the circumferential direction, so that the rubber pad wear uniform.
With line speed compensation device, when the diameter of rubber pad is changed, it will automatic tracking compensation of line speed, without manual adjustment, to ensure that the die cutting size is same for each batch cartons, and prolongs the service life of rubber pad and die cutting mould.
With automatic repair device, the worn rubber pad can be repaired for many times, after repaired the rubber pad smooth and glabrous, it keep same performance as new pad, greatly improve rubber pad reuse.
Five. Driving Gear 
Main drive gear
1) Alloy steel is made of quenched and tempered, high frequency quenching and grinding, thickness 50mm. It has long service life and little wear. It can guarantee the accuracy of printing process for a long time.
2) All transmission shafts and gears are joined by the non-bonding coupling, ensure the connection of shaft and gear without clearance, high coaxial and no looseness, small error of printing registration and so on.
Folder gluer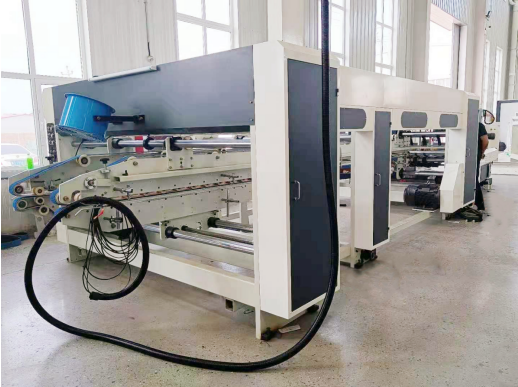 The box-gluing linkage line can be completed at one time. The cartons are automatically folded, glued and stacked. It has the functions of automatically applying glue, folding and forming, stacking cartons and so on. It adopts PLC control, touch screen operation and pre-storage and management of orders. Its high-speed production capacity, fast-changing orders and good stability can meet the shorter and shorter delivery cycle requirements of our carton customers.
Features of this machine:
1. This machine adopts the design concept of Korea Qinglong Company, and uses three sets of wall panels to fix the folding arm, so that the folding arm is stable and does not vibrate.
2. The folding belt adopts independent power, and the scissors mouth of the cardboard can be adjusted at will.
3. The paste head is glued with rollers.
4. The computer automatically changes orders, automatically saves orders and other functions.
5. The counting and discharging part adopts the straight-out paper discharging method, and the transmission distance is reduced, which is suitable for small cartons.
6. The printing department and the gluing department can realize the differential speed linkage. The total width of the cardboard can be input, and the gluing belt can automatically track. The minimum distance between the cardboard and the cardboard is 5-10cm to reduce the speed of the belt, increase the speed of the gluing, and reduce the error Necessary belt wear.
Working process
Function instruction
Function introduction of box gluer
(1) Gluing department: The gluing department adopts a roller-type gluing system, which can track the automatic changes of the machine speed. When the machine stops, the gluing department automatically rotates at a constant speed to prevent the glue from flowing out. The amount of glue can be adjusted freely according to needs, simple and fast
(2) The whole machine linkage: the belt of the folding part is adjusted and controlled separately, and the size of the scissors mouth is controlled as a standard. The link printing department can track the automatic acceleration or deceleration of the ink printing machine, which is convenient and practical for adjustment.
(3) The folding cardboard is adjusted by belts and nylon wheels, which is convenient to adjust the angle of the folded cardboard.
(4) Cardboard stacking and counting.
The pile board adopts the mechanical insertion method to pile up the height of the board.
The special color recognition sensor controls the counting, which can make the number of each package accurate
The counter (sensor) counting the number of cartons can be set arbitrarily on the touch screen.
Technology data
| | |
| --- | --- |
| Max machine speed (m/min) | 350 |
| Height of stacker (mm) | 80-350 |
| Number of stacker (Sheets) | 15-30 |
| Number of stacker (pack / min) | 16 |
| Max Size (mm) | 950*2250 |
| Min Size (mm) | 440*170 |
| Min Box Size(mm) | L130*W80*H90 |
| Length (m) | 10.5 |
| Flute type | A,B,C,E,A+B,B+C,B+E |
Small boxes Stripping machine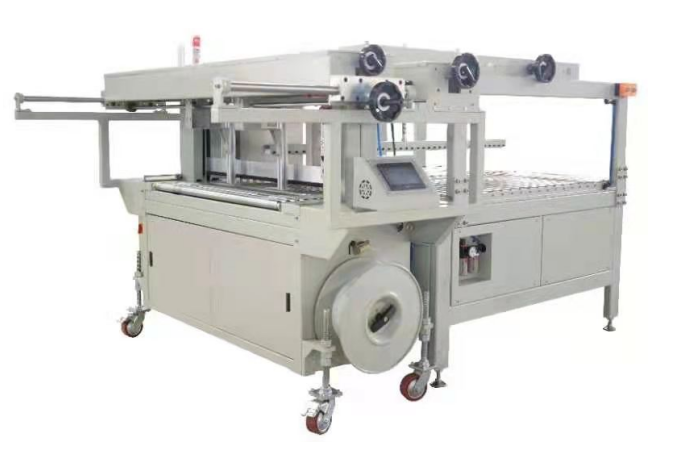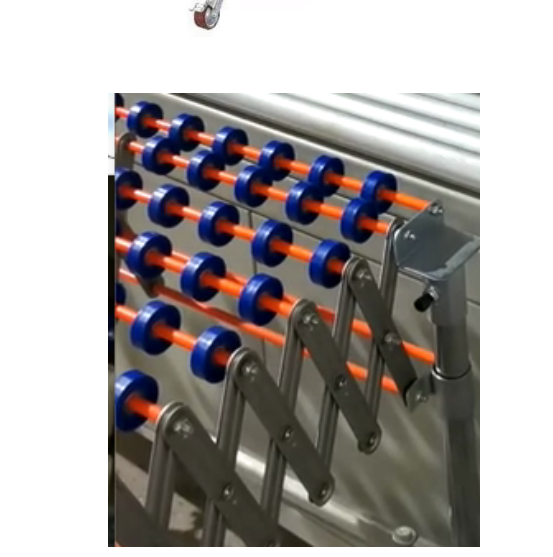 Applied width of PP Belt

5mm-9mm

As customer requirement

Thickness of PP Belt

0.45~0.55mm

Work capacity

10-25 pack/min

Transmit Speed

40~50m/min

Max Size

Max L:1000mm*W 1150mm

Min Size

Min L210*W175mm

Maximum longitudinal length of the carton

1150mm

Tightening force

0-45kg

Inner diameter of reel

200mm

Table height

850-1100mm

Working temperature

5~40 degrees Celsius

Power Supply

220V50Hz

Power

2.0Kw

Machine size

W2200*L2300mm

Machine weight

900Kg
The total power of the packing line (including the power squeezing box pressurizing and packing machine + box pressing machine): 2KW;
Power supply: three-phase five-wire system AC380V (1+10%) 50Hz;
L2300*W1200*H1600 power box pressurizing and packing machine;
Box pressing machine L1340*W990*H1650;
Telescopic line L700-3000*W970*H750-1100;
Working capacity: 15-25 pieces/min;
Working environment: relative humidity is less than or equal to 90%, temperature is 0-40 degrees Celsius, and noise is less than or equal to 75dB (A);
Bandwidth 5mm
Reel specifications: the inner diameter of the paper core with ring is 200mm-210mm, the outer diameter of the ring is 400-450mm, and the width of the ring is 175-190mm;
Bonding method: thermal fusion;
Bonding method: bottom bonding, bonding surface is greater than or equal to 90%, bonding position deviation is less than or equal to 2mm; 12. Bundling tightness: 0-45Kg;
13. Air source pressure: 0.5-0.8MPa;
14. Drum material: stainless steel;
15. Drum diameter: 50mm, wall thickness: 1.5mm;
16. Conveying speed: 0-50m/min
Main spare parts
| | | |
| --- | --- | --- |
| S/N | NAME | BRAND |
| 1 | PLC, contactor, thermal relay, circuit breaker, | SIEMENS |
| 2 | inverter, button, two-position self-locking knob, emergency stop button, Indicator light | Schneider |
| 3 | Touch screen | Weinview |
| 4 | Power supply box | Mingwei |
| 5 | Relay | OMRON |