ZHML Series manual die cutting and creasing machine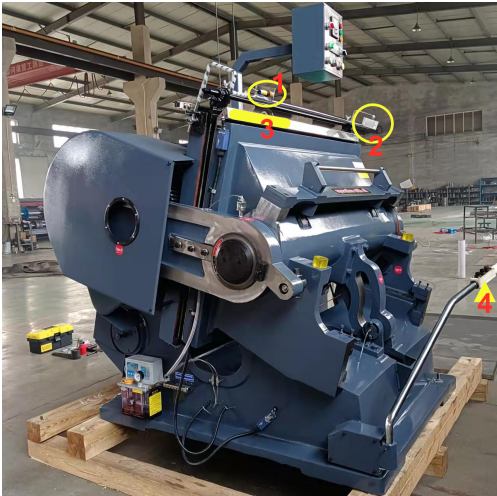 Die cutting and creasing machine performance and feature
1. This machine is professional in producing kinds products of plastic, car inside decoration, leather, cloth neck and colorful carton box such as adhesive.
2. This machine casting is made by the most advanced technology in China mainland, thus conquer old technology problem such as thickness is unevenness, then the die cutting precision is low.
3. This machine shaft and gear adopts 45# LAI steel material, and gear is same material with heat treated and angular deflection design, make its bite performance best, higher strength. In the operation, performance is more stable, noise is more lower.
4. This machine casting reach HT250 material, core parts material is 700-2.
5. This machine press cutting force bigger, open more than 160 degree and operate safely and easy.
6. This machine brake sensitively, four safety insure ways, auto controlling oil supplying system.
7. This whole machine adopts Original HERBIN bearing, and key Bearing are NSK.
8. Original France Schneider Electric Parts
9. Adopts National inspection-free Motor- Mengniu Brand
10. Shaft adopts ZCuzn40p62 material
11. This machine paint adopts car paint, Beautiful and durable.
Main specification
Model

Max. Die Area  (mm)

Working speed

strokes/min

Max length of knife row

Motor

(kw)

Weight

(kg)

Overall Dimensions

(LxWxH)

ML750

750*520

29*20 inch

25+2

<15m

2.2KW

2000

1260x1350x1280mm

ML930

930*700

36*27 inch

23+2

<25m

4.0

2900

1670*1670*1630mm

ML1100

1100x800

43*31 inch

20±2

<30m

5.5

4200

1900x1780x1700mm

ML1200

1200x830

47*32 inch

18±2

<35m

5.5

4400

1920x2000x1800mm

ML1300

1300x920

51*36 inch

18±2

<40m

5.5

5000

2000x2140x2000mm

ML1400

1400x1000

55*39 inch

17±2

<45m

7.5

6500

2100x2400x1930mm

ML1500

1500x1050

59*41 inch

17±2

<45m

7.5

7000

2100x2400x1930mm

ML1600

1600x1250

63*49inch

16±2

<50m

11

9500

2170x2560x2230mm

ML1800

1800x1400

70*55 inch

16±2

<62m

11

12000

2240x2800x2230mm
More picture:
ML1200